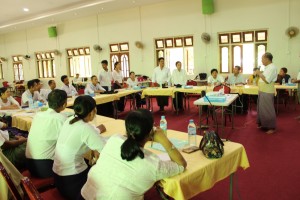 Training of Trainers on Climate Smart Agriculture and Farmer Field School was successfully over on 29 May to 1 June, 2018 at Religious Center in Labutta as arranged instructors and planned agenda as well. This training is attended 29 (20 staff from DoA Labutta, 5 staff from AVSI, 3 participants from FAO (1 Technical Field Officer in Labutta, CSA Specialist and Knowledge Management Specialist from FAO) and one National Resource Person attended the training.
Ms Khin Mar Yee, Staff Officer DoA, addressed the opening speech by expressing her gratefulness to FAO and the resource person and encouraged the DoA staff for the active participation in coming FFS implementation. The national resource person facilitated the sessions, following the FFS curriculum developed by the project for Delta zone, by using power point presentations, training aids and group dynamic exercises as per planned agenda. For the Labutta area, based on the existing agro-ecological zone and need assessment, paddy based cropping pattern including legume (green gram) is focused followed by green manuring wherever possible among the 15 FFS sites. Aside from the theory class room discussion visit to the field site was organized where SRI (System of Rice Intensification) technique was practiced.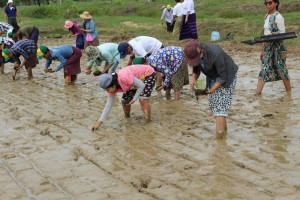 CSA Specialist (National) also presented the concept and techniques of CSA and FFS using power point slides and video clips. Shared the information about the programme objectives, scope of the works, implementation area and deliverables for the whole project; clarified the roles and responsibilities of DoA, AVSI and FAO; provided the methodologies and tools for village profiling; discussed about total targeted farmers households (total 450 i.e. 30 from each FFS site) and explored the participants' idea by power point presentation namely as "Food for Thought". Also discussed and clarified FAO requirements and, budget allocation in FFS activities with AVSI Country Director who was also involved as a participant in current ToT. In day 2, Knowledge Management session was facilitated by KM specialist. The training mainly focused on how to capture the good practices and how to document them in a proper way. Moreover, the training also covered about social platform and benefits of using Unicode as well.
Ms Khin Mar Yee, discussed the importance of soil testing and process of collecting and dispatching soil samples for lab testing. All responsible DoA staff who are officially assigned for SLM-GEF project were requested to take soil sample at the depth of 0-6 inches soil sample packs per demo plot before starting up the activity. Recommended to take soil sample in dry season in next year for easier arrangement to send sample to soil laboratory.  The quick and estimated results could be done by using soil test kit for N, P and PH. Closing remarked by Ms Khin Mar Yee on behalf of DoA, expressing gratitude to UNFAO and AVSI for collaboration with DoA and willingness to support for FFS implementation as far as DoA can. The training is successfully finished on 1 June.