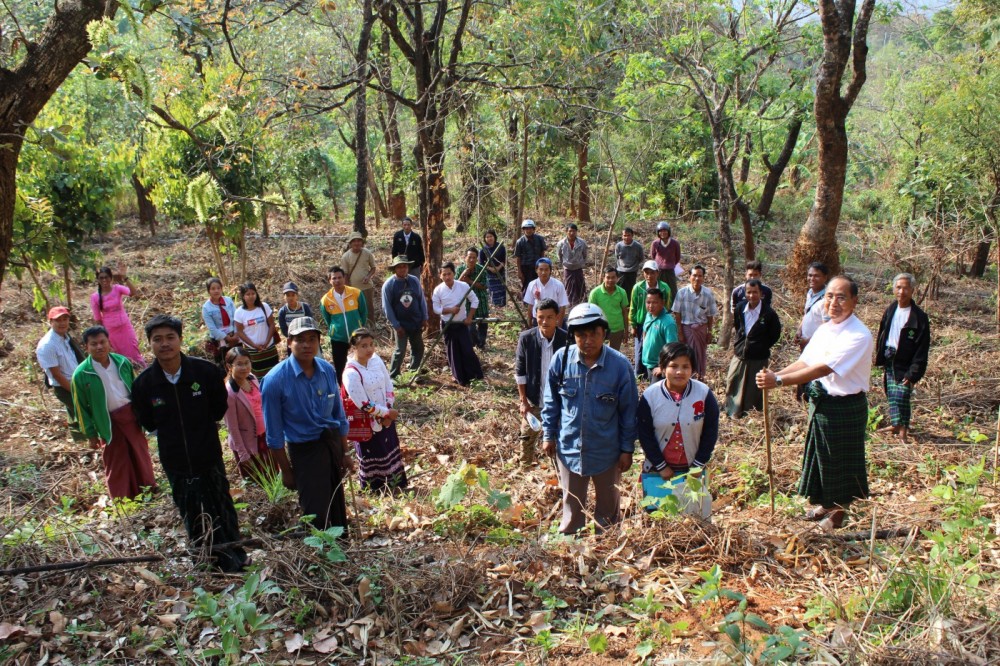 Training of Trainers on Climate Smart Agriculture and Farmer Field School was successfully over on 9-11 April, 2018 at Mindat Hotel as arranged instructors and planned agenda as well. This training is attended 35 participants as total (18 staff from DoA, Mindat and 8 staff from the DoA Kanpetlet, 5 staff from COLDA, 1 Technical Field Officer, one National Resource Person and 2 Specialists from FAO). For the opening speech for this ToT from the government side and FAO side was delivered by U Win Myint, Mindat District Officer MoALI and Ms Khin San Nwe (CSA National Specialist) respectively.
The national resource person facilitated by power point presentations, training aids and group dynamic exercises as per planned agenda. Aside from in class training, all participants visited to the field site to practice  AESA (Agro- Eco-system Analysis) which is existing the agro-forestry farm and then went to another farm for contour lining exercise in sloping land.  For DoA staff, in order to be not only strong enough technically but also to be strong mobilization skill, the resource person, Mr Aung Swe Latt suggested that DoA staff should be trained more such as "communication and mobilization skill training".
In day 2, Knowledge Management short section was facilitated by KM specialist. The training is mainly focus on how to capture the good practice and documenting the practices. This training could help to capture the good practices in Chin Area. Moreover, the training is also covered about social platform as well.
CSA (Climate Smart Agriculture) Specialist (National) clarified roles and responsibilities of the Service Providers (COLDA), UNFAO and DoA (Township Mangers from Mindat and Kanperlet) and on important issues related to the contract management (reporting, monitoring and evaluation arrangements and any other operational issues by taking one session through face to face discussion/consulting during ToT. The training is successfully finished on 11 April.